Dog training is highly recommended for any breed and any age; it is not true that you cannot teach an old dog new tricks! We offer a range of assessments and courses at our dog training centre in Hertfordshire to address a wide range of issues. So, if you need help to stop your dog barking, getting them to walk correctly on a leash, or something more serious, our obedience training will work for you. Positive training methods are used, which include using food treats and toys and verbal praise.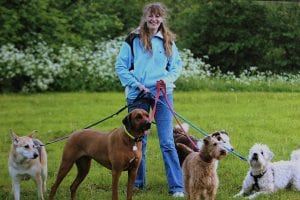 One to One Dog Assessments
If you are looking for something more personal, we offer one to one training. It consists of a one-hour session at Country Boarding dog training centre in Hertfordshire. You will meet with a qualified trainer to assess the issues, and we will provide you with tips and advice as to how to proceed. A follow-up tailored training course is often beneficial, and we are more than happy to accommodate follow-on training.
One to One Dog Behaviour Training
Sometimes dogs exhibit behavioural challenges that require professional intervention to help get you back on track. Attend the kennels with your dog(s) and meet Hazel to discuss the problems you are facing. Sessions regularly take place on Saturday afternoons.
Experience has taught us that most behaviour problems are not solved with a one-off intervention. Behaviour problems generally have become ingrained, so building understanding of the problems and gaining confidence as to how to rectify them takes time and dedication. This is where we can help.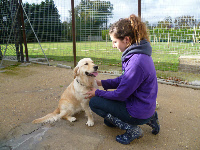 One to one dog training sessions are an hour long, and at a time convenient for you. During this time, you will receive an assessment and training advice as to how to overcome your challenges. You will also get the opportunity to practise the training techniques with the trainer present. We can work on a variety of behavioural challenges; from merely walking to heel to becoming more sociable with people and other dogs or any other issue you wish to resolve.
Training is offered at our site in blocks of five hour long sessions at £250.00. Additional charges may apply if we need to travel to your site.
If you are unable to travel to our site we are able to offer one-2-one consultations by remote Zoom call. Please visit our sister site at https://www.dogbonding.com/consultation-sign-up-page
Call Hazel or Renate at the kennels on 01462 742658 to book an assessment and discuss anything further.
Puppy Training School
One-hour sessions over six weeks at CBK
Beginners
Intermediate
Advanced
For more information visit our puppy training page.
Locations Our Dog Training Covers
Country Boarding for Cats and Dogs have been providing professional cat and dog boarding services for the Hertfordshire, Cambridgeshire and Bedfordshire areas since the 1950s. Our expert trainers are ready to accept dogs from Stevenage, Hitchin, Letchworth, Baldock, Royston and Biggleswade. Our friendly staff are waiting to receive your call.
For further details about any of the above dog training courses, contact us today!