At Country Boarding for Cats and Dogs we also provide dog walking services to the Stevenage and Hertfordshire area for busy people who sometimes find it difficult to give their dog what it likes best – its daily walk!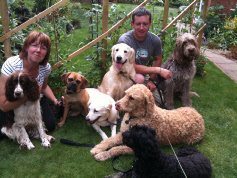 We can collect and drop her/him back home in our pet transport van between 10.00 and 14.00. We give every dog a 60 minute walk in our 15 acre fully fenced Dog Park in Hertfordshire where she/he is free to run with the pack off lead and in a safe environment. Our trained and experienced dog walkers supervise these sessions guaranteeing every dog a stimulating time, making sure everyone goes back home ready for a good sleep! We call this service Walkadog!
We will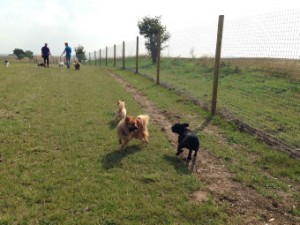 assess your dog beforehand to ensure suitability and you will need to provide evidence of current inoculations. We can pick your dog up from Stevenage, Hitchin, Letchworth, Baldock, Royston and villages close by but we may be able to help if you live further afield. You do not need make a regular commitment but we do require a few days' advance notice of your requirements.
The inclusive price for a daily 60 minute walk is £13.00 with discounts for additional dogs.
Call 01462 742658, or send us an email enquiry:office@cbkennels.co.uk  for our dog walking in Stevenage, Hertfordshire & surrounding villages!