It is not always easy to get your dog out for their daily walk; we understand that sometimes work, weather or health can get in the way, that is why we offer our Walkadog service. Our dog walking service is accessible, even to those who cannot drive, we can come and collect your four-legged friend and drop them home to you for a nice nap!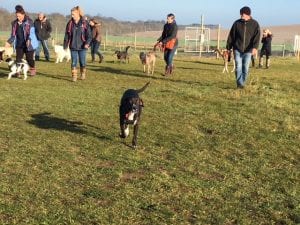 Collection and Drop Off Service
We can collect and drop your pet back home in our pet transport van between 10.00 and 14.00. We give every dog a 60-minute walk in our large fully fenced Dog Parks where they are free to run with the pack off the lead and are in a safe environment. 
We can pick your dog up from Hitchin, Letchworth, Baldock, Royston and villages close by, but we may be able to help if you live further afield.
Experienced Dog Walking Staff
Our trained and experienced dog walkers supervise these sessions guaranteeing every dog an exciting time, making sure everyone goes back home ready for a good sleep!
To ensure the safety of all our dogs, we will assess each and every one before we walk them to ensure suitability. You will also need to provide evidence of current vaccinations.
You do not need to make a regular commitment, but we do require a few days advance notice of your requirements.
How Much is a Dog Walker?
The inclusive price for a daily 60-minute walk with our dog walkers is £17.00 with discounts for additional dogs.
Locations We Can Collect From
Country Boarding for Cats and Dogs have been providing a friendly and professional walking services for the Hertfordshire, Cambridgeshire and Bedfordshire area for many years. We will collect in and around Hitchin, Letchworth, Baldock and Royston. If you live further afoot, our friendly staff are waiting to receive your call.
Call 01462 742658 or send us an email office@cbkennels.co.uk for dog walking in Hertfordshire.