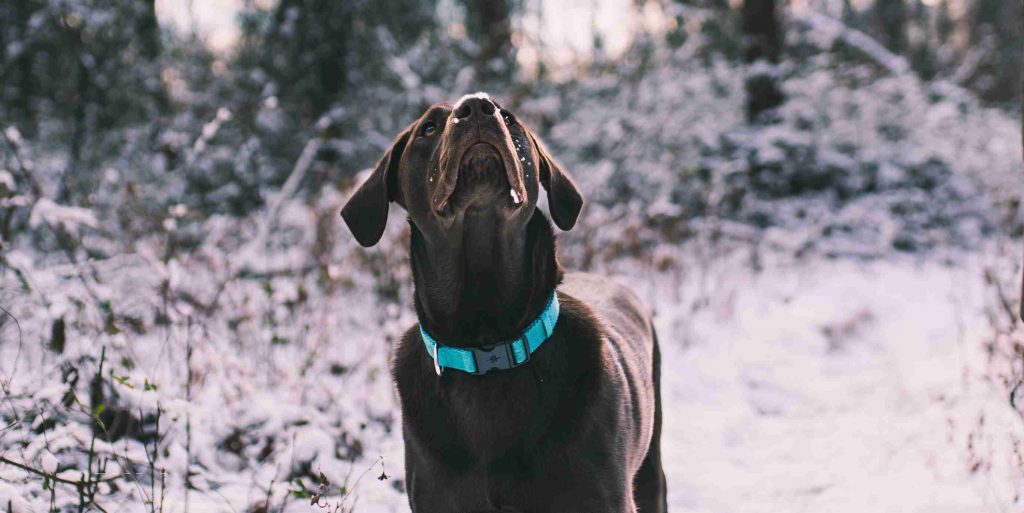 Bing Crosby's dream of a white Christmas looks set to come true this year! With temperatures set to dropping to a freezing -10C in some parts of the UK, many weather forecasters are now predicting snow this Christmas Day. Although the idea of a Christmas Day dog walk in the snow is great fun for many walkers, it is vital you stay safe when walking your dogs this December. Here at Country Boarding for Cats and Dogs, we have compiled a list of four safety tips to follow, whilst walking your dog in the snow. We hope you find these canine safety tips helpful.
1. Update Identification
Is your canine companion's identification up to date? You'll already know, your dog should be microchipped, however, it is important that the information is accurate and includes an up to-date home address and contact telephone number. This is particularly important if you are on a dog walk in the snow, and your pet gets lost. Heavy snowfall can be disorienting for a dog and can affect their sense of smell, making it very easy for them to get lost. With snowfall often affecting a dog's navigation abilities, it is safer for them to carry accurate identification on them in the form of a microchip. A microchip offers reliable identification, helping to increase the chances of your dog being returned to your home, if ever lost in the snow.
2. Avoid Ice
Ice on the ground can prove to be a slipping hazard for both owner and dog, with ice around frozen ponds or rivers being particularly dangerous. Thin ice can easily crack and break, increasing the chances of your dog falling underneath it. Never let your four-legged friend walk on frozen ponds or lakes, particularly if they are a large breed of dog, and especially if you are unsure of how deep the water is. The thin ice may not be able to take the weight of your dog, and if your dog falls through it, they could easily pull you in after them.
3. Canine Insulation
As December gets colder and weather forecasters predict more snowfall, many dog owners are speculating whether their pets need winter coats to stay safe and warm this festive season.
Generally, dogs such as Huskies and Pomeranians that have thick, heavy fur are naturally shielded from the cold and will not need a waterproof coat. However, there are many other dog breeds that find it harder to generate and retain enough body heat to keep themselves warm and will therefore need more protection from extreme cold weather conditions. If your dog has a short, flat coat, then you may want to provide them with a well-insulated waterproof coat to help keep them warm and dry as you go on a dog walk in the snow this December.
4. Paw Patrol
Your dog's paws are very vulnerable during the winter months. This is because your dog's paws are regularly exposed to the cold surfaces on their walks and do not have fur there to protect them. Ice melting chemicals on the pavements and footpaths are particularly dangerous for dogs and can aggravate their skin and even be toxic if consumed. Avoid any areas of your walk where you suspect that chemicals or rock salt has been used to melt away the ice, as this can cause your dog irritation or burns to their paws. Walking your dog at a secure dog park or field where there are no harmful ice melting chemicals on the ground is often a much safer choice for many owners over the festive period.
Closing thoughts…
We hope you find our four safety tips helpful for when you take your dog on a walk this snow-laden December. By following our four safety tips, you and your four-legged friend can enjoy the snow together and look forward to a Bing Cosby style white Christmas.