Many people find they need for convenience and peace of mind that we offer by looking after their dog during the day at our doggy day care. Many situations arise for example:
Work commitments
Going shopping
Hospital appointment
Day trip
Visitors coming to the house
This then requires you to find immediate assistance in the taking care of your beloved pet. With our day care services you can make a booking beforehand and drop your dog off after 09.00 and collect before 18.00.
We'll keep your dog safe in a standard kennel or luxury suite and give him/her 15 minutes exercise during the day. Standard accommodation is from £12.25 (inc), luxury suite is £23.85 (inc). Please feed your dog before delivery.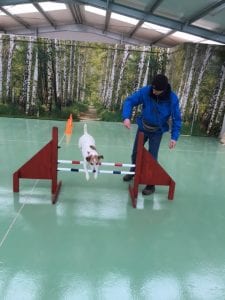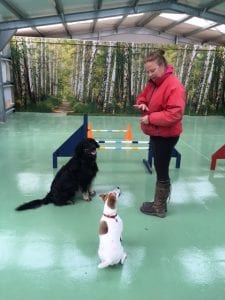 We also offer day care on a more regular basis for clients who need reassurance their dog is looked after well while they are at work.
You can now choose 'Playdays' for your dog in our new day care hall. This will be with other compatible dogs in our hall and supervised by an experienced member(s) of staff. There are a range of activities which includes brushing, obedience, agility plus rest! Dogs are exercised in our secure dog park during the day. All this for only £23.00 (inc) covering 08.00 to 18.00. Half days are also available £13.00. Session run from 08.00 – 13.00 and 13.00 – 18.00.
Please Note: All Playdays dogs are only accepted after a pre-booking assessment has taken place. All dogs must be neutered with the exception of male dogs up to 6 months and females up to 12 months. Dogs must have current vaccinations plus Kennel Cough vaccination.
Please call 01462 742658 for more information about our Playdays dog day care Hertfordshire.