If you are the proud owner of a new puppy, it can be easy to get drawn in by their cuteness! But be warned! A puppy, or puppies, that do not undergo training can quickly become a handful once they grow. Our loving and expert staff are here to ease that journey by helping you learn how to train your dog, from puppyhood into later life.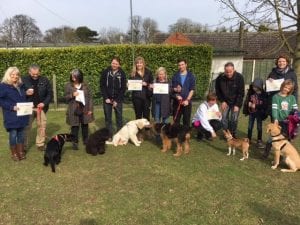 Far More Than Basic Puppy Obedience
Our puppy behaviour classes will not just teach you and your puppy basic commands such as sit, lie down, recall and heel walking. We like to give participants more comprehensive behavioural knowledge before they leave our course.
We will cover common behavioural problems with theoretical and practical advice.
Spending the time to educate your puppy will set them up for life, and a trained dog is safer and better behaved. Positive training methods will be used, using food, treats, toys alongside verbal praise.
View the Puppy Training Programmes page for a breakdown of what our Beginners and Improvers classes cover…
Your Puppy's Behaviour is Important to Us
We place great emphasis on socialisation, and this will occur each week. Topics such as nutrition, toileting and puppy-proofing your house are covered. The sessions will be interactive and fun, leading to a rewarding experience for both you and your puppy.
Our class instructor of 30 years' experience training all breeds. She is a member of the Association of Pet Dog Trainers and also holds a post-graduate diploma in Companion Animal Behaviour Counselling from Southampton University.
She says, "I use common sense, reward-based training and kind, fair and effective methods — explanation of the what, why and how of what is being taught is key. My emphasis is on ensuring that each handler/dog partnership can achieve their objectives by tailoring advice where required. I can also deliver clicker training when requested."
Puppy training classes are held in our new purpose-built spacious training hall and our outdoor paddock.
How Much Does Puppy Training Cost?
Price per puppy: £120.00
Locations Our Puppy Training Services Cover
Country Boarding for Cats and Dogs have been providing a friendly and professional puppy training service for the Hertfordshire, Cambridgeshire and Bedfordshire for many years. Our expert trainers are ready to accept local puppies from Stevenage, Hitchin, Letchworth, Baldock, Royston and Biggleswade. Our friendly staff are waiting to receive your call. Beginners and Improvers classes are held on Saturdays and Sundays at our site.
Click here to enrol or call 01462 742658 for more information on our puppy training classes in Hertfordshire.