Our History
1950s – Private kennels built on site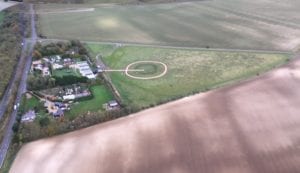 1960s – Original owners introduced the first Rottweilers into the UK
1989 – Country Boarding Kennels & Cattery was established
1994 – Heidi and Peter Eymor purchased and developed Country Boarding Kennels and Cattery into the recognisable form you can see today
1996 – New block opened for small dogs
2000 – Grooming parlour established on site
2000 – Hydrotherapy pool established on site
2011 – Renate and Jeremy Burrowes acquired the Kennels & Cattery
2012 – Luxury VIP kennel suites built
2012 – We acquired 15 acres next to the kennels to exercise dogs which board with us
2013 – Dog Park fenced and open to the public
2015 – Full Planning permission obtained for new developments
2017 – New entrance from Gannock Lane opened, dog day care commenced in our new Park Hall, ………..new reception opened with shop and Pet Cafe
2021 – Eco pledge to halve CO2 emissions by 2030. We installed additional solar panels, large storage battery, vehicle charge points and purchased three electric vehicles
A message from Renate and Jeremy
We have had the pleasure of operating the kennels and cattery since 2011. We are animal lovers ourselves, and part of our family was a loving cat and Labrador/Springer cross and, of course, our current three grown-up daughters! We now have fostered a Border Terrier.
Jeremy was a secondary school teacher and now is a part-time flying instructor. Renate owned and operated a successful children's day nursery and latterly established Walkadog, a dog-walking business, also in Hitchin.
We do our very best to maintain the high standards which have been established at Country Boarding for Cats & Dogs and look forward to meeting you and your pets.