At our dog hydrotherapy centre Hertfordshire, we have a hydrotherapy pool where your dog can receive treatment from Nicky, our qualified practitioner. Dogs can be referred by your vet for a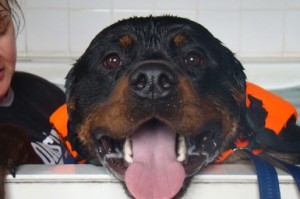 treatment programme for which you may be able to reclaim the cost through your insurance company.
Alternatively, ask to talk to Nicky who can advise on a programme to assist your dog with joint and mobility and recovering from illness or accident. Our large pool has water jets to encourage movement and we have a shower for use before and after a swim plus a drier.
Our all-inclusive price is £29.00 for a 30 minute session.
Call us on 01462 742658 to find out more or call Nicky on 07967 029355
See how it works below:
4 year old Pip the Labradoodle – she is more interested in the camera then swimming!
7 year old Herbie the Retriever – he has been swimming for fun since a pup!
Rosie – 18 month German Shepherd / Collie / Labrador cross  – with hip dysplasia
Nicky's 11 year old Rottweiler – Rogue swimming against the pool jets