Dog Physiotherapy and Hydrotherapy treatments are tried and tested medical treatments. Bring your dog to one of our professionals to help them stay fit and healthy, help them recover from various conditions or just to have fun!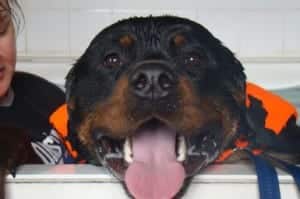 How can Dog Physiotherapy and Hydrotherapy Help your Dog?
Physiotherapy and hydrotherapy can benefit dogs with a multitude of different conditions including but not limited to:
Arthritis
Hip and elbow dysplasia
Cruciate ligament injuries
Hind limb weakness
Back and spine issues and paralysis
Rehabilitation following surgery
Gait abnormalities
The main ways that physiotherapy and hydrotherapy help these conditions is reducing pain and muscle stiffness whilst increasing joint mobility and muscle mass.
How does a Physiotherapy session work?
During an initial assessment a thorough history will be taken from the owner to give the therapist an understanding of the reasons the dog has been referred. Following this, an assessment of the dog's gait, joint range of motion, areas of pain, muscle mass and state will take place. During the initial assessment, treatment of any issues identified will also take place using manual therapies, such as massage, and electro-therapies, such as light therapy.
Following this, a rehabilitation and hydrotherapy plan will be set out and implemented. This includes a bespoke home exercise plan for the owner to carry out at home between visits.
How does a hydrotherapy session work?
Every hydrotherapy session will start with a gait assessment and conversation with the owner about how the dog has been since their last visit. The dog will then be put in a harness and showered before they enter the pool.
A therapist will be in the pool with the dog at all times. They will carry out massage on any areas of tension identified. They will also aid and evaluate the way the dog swims so that they get the most out of the session. After the session, the dog will be washed, showered and dried.
Fun Swims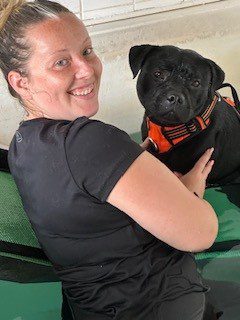 We also offer fun swims for dogs who do not have any particular physical ailments. These sessions will help dogs gain confidence in water while also offering rigorous exercise in a controlled environment. A therapist will introduce your dog to the heated dog swimming pool gently and stay in the dog pool with your pet during the session. You are welcome to observe at these dog swimming sessions so you can also join in the fun.
At the end of the session, your dog will be showered and towelled down.
How do I book my dog in for Physiotherapy and Hydrotherapy?
To book your dog in for an initial assessment, please contact our veterinary physiotherapist by calling 01462 742658 or mail us at office@cbkennels.co.uk.
We will collect your details as well as information about the dog. We will also send a referral form to your veterinary surgeon on your behalf.
Locations Our Dog Hydrotherapy Cover
Country Boarding for Cats and Dogs have been providing friendly and professional dog hydrotherapy services for the Hertfordshire, Cambridgeshire and Bedfordshire area since the 1950s. We operate in and around Stevenage, Hitchin, Letchworth, Baldock, Royston and Biggleswade. Our friendly staff are waiting to receive your call.
Call us on 01462 742658 to find out more.
4 year old Pip the Labradoodle – she is more interested in the camera then swimming!
7 year old Herbie the Retriever – he has been swimming for fun since a pup!
Rosie – 18 month German Shepherd / Collie / Labrador cross – with hip dysplasia
Nicky's 11 year old Rottweiler – Rogue swimming against the pool jets