Our dog boarding facilities have been inspected by North Hertfordshire District Council and have been awarded a 5-Star rating for 2021. We were proud to have been winners of the PIF Kennel of the Year Award 2020 and finalist in 2021. Your pet can stay in standard or VIP boarding suites, and we will walk your dog in our large enclosed dog parks. We can even collect and drop your beloved pet home! Discover the Country Boarding family today; we are waiting to take good care of your pet.
Your Dog is in Good Hands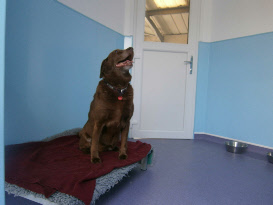 Leaving your dog or puppy in someone else's attention can be daunting; it can give you a touch of anxiety. A lot of people worry about how their pet will deal with kennels, or how staff will treat their pet. Having worked with pets for many years, we can genuinely say that the majority of pets settle in quickly and we will be as attentive as they need us to be!
Your dog will be allocated separate accommodation unless you have more than one, in which case we can board families together. Choose from our list of popular foods or if you prefer, bring your own. We are happy to walk your dog with other compatible dogs In our large dog parks provided you give us permission.
We are not just experts, we are dog lovers, and it is our mission to ensure your pet is happy and comfortable while in our care.
Our Standard Kennels
All our standard Hertfordshire dog boarding kennels are of masonry construction and comply with local authority licence regulations.
Most kennels are considerably larger than the minimum size requirements. There is access to a generous outside run through a pop-hole which is protected by a draft-proof curtain.
All your dog's essential details are located outside its kennel. Feel free to bring a favourite toy if you wish. We provide a standard raised bed with a fleece blanket for each pet.
The outside run is accessible during the day. (The runs for small dogs are covered under a roof for extra protection).
Our VIP Luxury Dog Boarding Kennels
For the more discerning owner, our ten VIP suites offer ideal facilities to allow you to pamper your pets even more while they are on holiday. Built to domestic standards, with under-floor heating and a private garden with AstroTurf, our VIP suites are cool in the summer and warm in winter and offer a quiet and relaxed atmosphere for a single dog or groups from the same family.
Overnight and Long-Term Dog Boarding made simple!
If you are interested in boarding your dog with us, then follow these simple steps:
Your dog will require the recommended vaccinations plus Kennel Cough vaccination at least 14 days before he/she is boarded with us.
Call 01462 742658, send an email or use our booking request form and let us know your requirements.
Pay a deposit over the phone by card
We will send you an email acknowledgement, and your booking is confirmed.
We will look forward to welcoming you, and your pet to our family!
Locations Our Dog Boarding Services Cover
Country Boarding for Cats and Dogs have been providing friendly and professional dog boarding services for the Hertfordshire, Cambridgeshire and Bedfordshire area since the 1950s. We operate in and around Stevenage, Hitchin, Letchworth, Baldock, Royston and Biggleswade. Our friendly staff are waiting to receive your call.
For more information about our dog boarding kennels in Hertfordshire, call us today! Place a booking request online, email or call us on 01462 742658