Perhaps your pet needs some recall training, or you would just like that extra peace of mind, there are boundaries to your walk? Our 15-acres of open field are perfect for dog walks; you can let them run free without the concern of them not coming back. It is also perfect for dog group parties, puppy training and walks!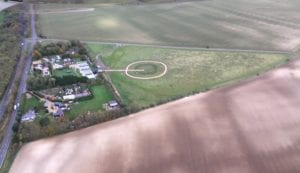 Our Enclosed Dog Walking Park is for our Boarders & Private Hire
Fenced to 6ft high, we use our secure field to exercise our boarding dogs, but it is also available for private hire.
CCTV protected for your safety;
There is no danger from traffic;
dogs cannot get lost or attack livestock;
dogs socialise with others in a safe environment;
there are no unexpected unsupervised, dangerous dogs;
we have experienced staff on hand for advice;
there is a club atmosphere; and
all members are welcome.
It is what dogs (and their owners) have always wanted! Do make sure you call and ask about membership, so booking can be made easy.
Call 01462 742658 for full details about our dog park serving Hertfordshire, Cambridgeshire Bedfordshire and even further afield!
How Much Does It Cost?
The Dog Park is offered to members for Group Walks (at pre-arranged times) and for exclusive use. Please note: our dog park is closed on Christmas Day. On other Bank Holidays, the Dog Park can only be hired for Exclusive Use.
Group Walk (Excluding Christmas Day)
Members can join our daily Group Walks Mondays to Sundays – 11.00 am to 12.00 noon – for the price of £5.00 (weekdays) £5.50 (weekends).
Note: Do make sure you call us before coming for your first group walk for a pre-walk assessment. Please bring evidence of your dog's vaccinations and Kennel Cough vaccination.
Exclusive Use of the Fenced-In Dog Park
Members can pre-book the Dog Park:
thirty minutes exclusive use of the field – £10.00 (weekdays) £11.00 (weekends); or
payment by debit card in advance with booking.
Group Meetings
The Dog Park is a popular safe place for groups to meet up with friends or breed interest groups. Visitors can also access our on-site cafe.
Sixty minutes exclusive use of group size up to twenty people – £40.00 (Membership not required)
Reduced Price
Pay by monthly Direct Debit or put £50.00 credit on your account to reduce the pay as you go prices.
Save £0.50 each Group Walk hire or save £1.00 each 30 minute Exclusive Hire session.
Annual Membership – FREE 
 We will require you to update your personal details each year to keep your membership current to use the facilities.
Call 01462 742658 for full details.
We are Located in Baldock, Hertfordshire
Our Dog walking park is open and available for the Hertfordshire, Cambridgeshire and Bedfordshire area. We offer our services in and around Stevenage, Hitchin, Letchworth, Royston and Biggleswade. Our friendly staff are here to receive your call.