Staff News
Collette has left us to take up a post training animals on a full time basis. Emma has been appointed Manager and Rhian Parslow has joined us as her deputy.
Website
Our website has a new look to give a better experience over a range of devices. Try it out at www.countryboardingkennels.co.uk
New E Mail Address
Please amend your address book to include our new e mail address which is office@cbkennels.co.uk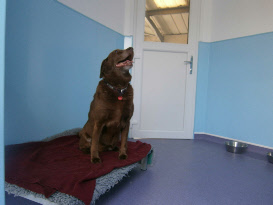 VIP suites
We are pleased to announce that 5 additional new VIP luxury suites are available for your dog and the refurbishments are now complete. Bookings for May Bank Holiday weeks and summer bookings are already strong so please do not delay if you want a luxury suite for your dog. Remember, the price is inclusive of food, heat and a daily 30 minute exercise in our dog park.
Dog Walking
We are planning to commence a new dog walking round in June 2015 for the postcode SG1 (Stevenage). If you would like your dog to be exercised Mondays to Fridays daily or part time, we can help you. We collect your dog in our van in the morning, exercise your dog in our dog park for a full 60 minutes and return it home in the afternoon. Sign up before 31st May 2015, to receive a 30% discount until 31st August which means you only pay £7.70 per day. This offer applies only to pickups in SG1 and is limited to the first four clients.
We also currently cover SG4, (Hitchin), SG5, (Hitchin/Stotfold), SG6, SG7, SG8
Dog Park Group Walks
Group walks in the dog park continue to be very popular. Group walks take place daily between 11.00 and 12.00 and walkers are accompanied by a member of staff. Please contact us beforehand if planning on joining a walk for the first time.
Safety in the Dog Park for Group Walks
In the interests of safety, please ensure that every child under 8 years is accompanied by a separate responsible adult while in the dog park. This person cannot also be the person who is responsible for the dogs. The park is not suitable for children under the age of 3 years. (These conditions do not apply when the park is hired on an exclusive basis but parents are still responsible for their children's safety.)
Refreshments
We now have vending machines just inside the building opposite the entrance to the dog park. Hot drinks are now available and a machine for snacks and chilled drinks will soon be operational.
Puppy Classes
The Improvers class will continue with Rhi at 09.00 every Saturday.
The next Beginners puppy class will commence Saturday 6th June at 10.30.
Opening Hours
We are now open every day 09.00 – 12.00 and 14.00 – 16.00. (Excluding Bank Holidays)