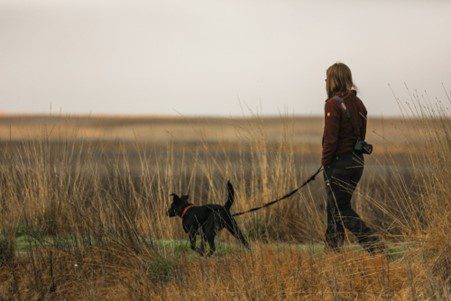 Dog walks are a crucial part of your dog's daily schedule. Dog walks are a great way for your canine companion to get regular exercise and for the two of you to spend some quality time together. Dog parks in particular, are fantastic settings for owners and dogs to connect with nature and to enjoy a safe and secure walk. At Country Boarding for Cats and Dogs we have highlighted three ways to improve your dog walk at a dog park. We hope you find this article helpful!
1. Connect with Nature
We can experience lots of benefits when we connect more with nature, especially when we are on a dog walk. Interestingly, a report led by Forthglade discovered that sixty-three percent of people frequently use their mobile devices while on a dog walk, with twenty-six percent spending their time on Facebook, Twitter and Instagram or checking work emails. It is so crucial that we disconnect from our mobile devices and pay our furry friends the attention they need when on a dog walk. By connecting more with our dogs and the natural landscape around us, we can get the most out of our dog walks which will ultimately help to improve our physical and mental wellbeing. The next time you are on a walk, instead of listening to music or watching videos on Facebook, connect with the natural orchestra around you and listen to bird songs, owl hoots and the rustling of tree leaves under your feet.
2. Calm Communication
The next time you are at a dog park, try calmly communicating with your four-legged friend as this will help create a tranquil and peaceful environment. At a dog park, there will be lots of sights and smells for your furry friends to take in and their brains need time to process all the information. It is important to speak slowly and to use a gentle and calm tone when giving a command, as dogs will need time to process a lot of information when on a dog walk. Being able to communicate with your dog is the basis for strengthening your relationship. Dogs are excellent at reading their owners emotions and can pick up when they are sad or angry; so always try and calmly communicate with them on a walk as this will help create a relaxed and enjoyable environment for them.
3. Change the Pace
When walking your dog at a secure dog park, try and find a pace that is most comfortable for both of you. Let your dog explore new trails and take in new sights and smells and enjoy the walk at their own pace. When you first visit the dog park, allow your dog the time to investigate, sniff the soil, and mark their territory. According to a study in 2019 by The Applied Animal Behaviour Science Journal, dogs that spent more time sniffing were found to be more optimistic. By giving your dog more opportunities to explore their surroundings through their sense of smell, they will enjoy going on more walks and feel more positive.
Closing thoughts…
We hope you found our article on three ways to improve your dog walks at a dog park helpful. Dog parks are fantastic for allowing dogs to play and perhaps interact with other canines whilst also offering dog owners the chance to connect with other dog lovers. At Country Boarding for Cats and Dogs, our fifteen acres of beautiful field are ideal for the perfect dog walk. Our dog park is also perfect for dog group parties, dog training and dog walks! Book your dog walk today!