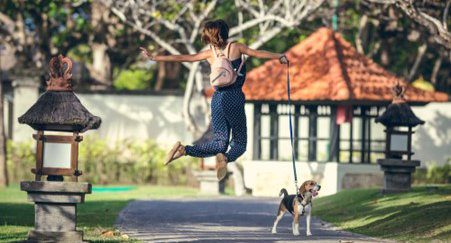 Did you know that you can transform your dog walk in to more of a workout? At Country Boarding for Cats and Dogs we have included three ways you can get the most out of your dog walks to help improve your fitness. Enjoy!
1. Pick up the pace
The next time you are on a dog walk, transform your gentle stroll into a power walk or a jog. A great way of improving you and your canine companion's physical fitness is by adding distance and duration to your daily walk. However, bear in mind to also give your four-legged friend enough time on their walk to sniff and explore at their own pace. Ensure that you always pay attention to your dog, especially if you are power walking or jogging as they may need to take a toilet break or want to explore a new sight or smell.
2. Aerobic Fun at the Dog Park:
When you visit a dog park, consider including some aerobic fun when on your dog walk. If your dog loves to play Fetch, throw their ball as far as you can and then as they go to race to retrieve it, do some compact exercises such as a regular lunge. Repeat this exercise five times.
Regular lunge: Ensure that you have a straight back and that your core is engaged, next use your left leg to step backwards and drop your hips up until your knee joint is at a ninety-degree angle. Repeat this exercise slowly making sure you continuously switch legs.
3. Stretch out
After you have completed your dog walk and exercise routines, make sure you stretch out. Stretching out is important as it can help reduce muscular tension and irritation not to mention help to improve your overall mobility. If you want to safely involve your dog, gently massage their joints, and leg muscles. Dog physiotherapy massages have many physical benefits and can help promote bonding between you and your pet.
Benefits to your dog can include the following:
Reduce muscle strain and pain.
Help tissue recovery and reduce persistent or severe discomfort.
Ease with canine arthritis, hip dysplasia and other persistent ailments.
Reduce swelling and soreness.
Final thoughts…
We hope you found our three ways of transforming your dog walk into a workout helpful. There are many other exercises and fitness workouts available online that you can incorporate into your daily routine, the next time you go on a dog walk or visit a dog park. Good luck! At Country Boarding for Cats and Dogs we have acres of stunning fields, which are perfect for the ideal dog walk. Contact our friendly team today to book your dog walk!