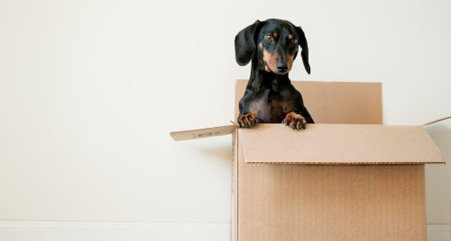 Are you moving into a new home and worried about how your dog will adjust to their new environment? Moving home can be a stressful time for both dog and owner, but with a little planning you can ensure this transition period runs as smoothly as possible. At Country Boarding for Cats and Dogs, we have highlighted five top tips to help your dog adjust to your new home. Enjoy!
Routines
Many dogs appreciate structure and routine and when it comes to moving home, it is important to maintain the same general schedules as before. Although your dog's new environment is different it does not mean that their daily routine also needs to change. So, if your canine companion is used to eating breakfast or going for a walk at a certain time of the day, try and follow this same schedule when you move into your new home.
2. Keep their Old Comforts
When you first move, you may want to buy lots of new things, especially for your dog. However, it is important that your dog settles into their new environment and so by keeping hold of their old comforts; water bowls, old dog bed favourite chew toy, etc. This can really help soothe and pacify them. If you really want to treat your dog to a new moving in present, then consider treating them to new chew toy as chewing is known to help alleviate stress and anxiety.
3. TLC
During your move, ensure you commit to spending some extra quality time with your four-legged friend. When you move into your new home, your dog may feel anxious and be missing their old environment, so help calm them by giving them quality TLC (more so than usual). Whether it is going on lovely dog walks, visiting a dog park or just cuddling up with them on the sofa, these acts of affection will really help comfort your dog during the first few weeks of moving into their new home.
4. Stay with your Dog
Many dogs which are usually happy being left alone for many years suddenly becoming anxious when their owners leave them alone in a new home. Many canines are very location sensitive and will need time to adapt to being left alone in a new setting. Try and be with your dog as much as you can and take them with you if you must leave the house. If you really must leave your dog alone then begin with very short departures if possible.
5. Patience is Key
Patience is key. Many dogs will adapt very quickly to their new home in just a few days, whilst others may take weeks, months or even years to properly settle in. The best thing you can do as an owner, is to let your dog settle in at their own pace. Every dog is different, and it will take as long as it takes for them to fully acclimatise to their new setting. Remember, Rome was not built in a day!
Final thought…
We hope you found this article helpful. By following our five steps to help your dog adjust to their new home, we are certain your four-legged friend will settle in within no time.