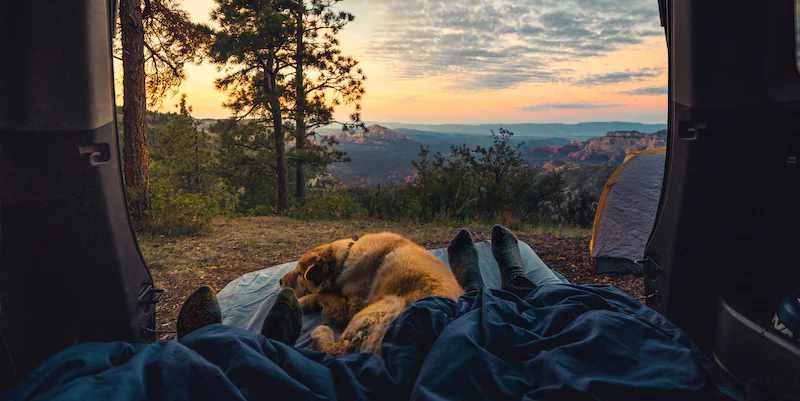 July and August are popular camping months for many active dog owners living in the UK. With beautiful beaches, forests and green woodland to visit, it is no surprise the UK is a popular choice for many camping enthusiasts and their canine companions. Camping with your furry friend can be an exciting adventure for both you. However, it is important to be prepared and take the necessary precautions to ensure a safe and enjoyable trip. At Country Boarding for Cats and Dogs, we have highlighted three top tips to keep in mind during your camping trip. We hope these help to answer any canine camping questions you may have. Enjoy!
1. Setting Up Camp
When setting up camp, make sure to choose a spot that is safe and comfortable for your dog and that you have easy access to a secure dog field. Also, make sure to keep your dog on a leash while you pitch the tent and set up camp. This will prevent them from running off or getting into any trouble with wildlife. Bring a dog sleeping bag or blanket to keep your four-legged friend warm and cozy at night.
2. Hiking with your Dog
Going for a hike with your dog is a great way to explore the outdoors together. However, it is important to keep your dog under control at all times. Keep a close eye on your four-legged friend throughout your trip, as this will prevent them from chasing after wild animals or potentially getting lost. Bring plenty of water for both you and your dog, and take frequent breaks to rest and hydrate.
3. Swimming Safety
If you plan on going for a swim with your dog, make sure they are comfortable in the water and perhaps consider them wearing a dog life jacket. Remember to bring poo bags and dispose of them properly to keep the area clean. Swimming is a low-impact, full-body exercise that can help improve a dog's cardiovascular fitness, muscular strength, and overall physical health. It allows them to work their muscles without putting stress on their joints, making it ideal for dogs with arthritis or other joint issues. Canine hydrotherapy in particular, is popular with many owners due to its effective rehabilitation for dogs, providing gentle exercise for joints, promoting weight loss, and improving their overall wellbeing, as they enjoy the water and the invigorating experience of swimming inside a therapy pool.
Lastly…
By following these tips, you and your dog can have a fun and safe camping trip together. However, make sure you don't forget to bring flea and tick prevention, ID information, and enough food and water for your furry friend. Be respectful of leash laws and wildlife, and keep an eye out for any signs of illness or injury. With a little preparation and care, you can create lasting memories with your canine companion in the great outdoors this July and August.