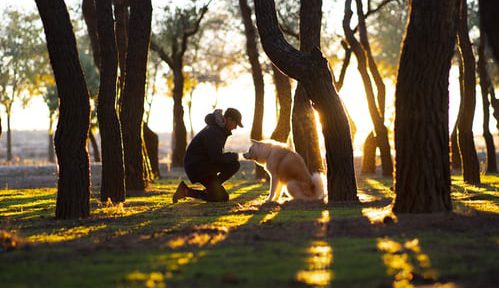 Did you know that owners and their dogs can experience many health and social benefits by walking together each day? It's true! A dog walk is such an important part of your daily routine together. Here are five fantastic benefits of walking your dog each day. Enjoy!
1 Joint Health
Owners and their dogs can experience joint issues which can sometimes lead to immobility. If you own a senior dog, then unfortunately pain is often a part of the aging process. Just like us, many dogs can develop chronic joint pain issues, such as arthritis the older they get.  
To help treat the pain, it is often advised that you mobilise their joint area. By walking your dog each day, this will help improve their joint function over time. However, not every dog is the same and with each individual case it is always recommended that you consult the advice from a qualified veterinarian.
2 Mental Health
Many dogs love to be stimulated and when immobile they can sometimes easily become bored. Walking your dog helps to exercise both their body and mind. This can also be the same for many dog owners. Exploring new nature trails with your dog and interacting with other owners and their pets can be crucial mental stimulation for you. Dog walks can also be a great way of releasing any excess energy which can hopefully help you both sleep better at night.
3 Happiness
Regular exercise such as walking your dog can help produce endorphins. These endorphins can help make owners and their dogs feel better! It is no secret that happiness plays a huge part in our mental health and wellbeing, and this is the same for your canine companion.
4 Digestion
Walking your dog daily can also help regulate their digestive tract and alleviate constipation – so your dog's stools are regular and healthier. Regular walks can also help your dog empty their bladder which has huge health benefits. When urine sits in the bladder for a long period of time, this can result in bladder infections so regularly emptying it can help maintain a healthy urinary tract.
A Strong Bond
Walking your dog each day is a great opportunity for you to strengthen the bond you have together. A daily dog walk is a fantastic way of spending quality time together and for your dog to look towards you as someone they can depend on and trust in their daily lives.
Did you find this article helpful? At Country Boarding for Cats and Dogs we have many years of experience providing a friendly and professional dog walking service in our secure fields for the Hertfordshire, Cambridgeshire, and Bedfordshire regions. Our friendly dog walking team will even collect in and around Hitchin, Letchworth, Baldock and Royston. Call 01462 742658 or send us an email office@cbkennels.co.uk for dog walking in Hertfordshire.