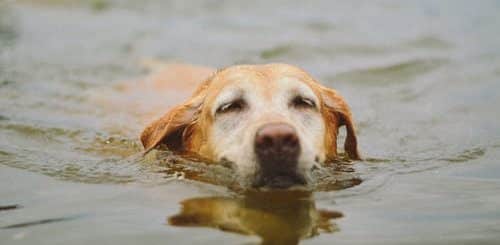 Since the Roman Empire, humans have been known to treat their physical injuries and aching joints with water therapy. However, it is only recently that dogs have also started to enjoy the benefits of hydrotherapy treatment. But what exactly is canine hydrotherapy? Below we have highlighted six FAQs regarding canine hydrotherapy. We hope these answer any questions you may have regarding this hugely popular and effective water treatment for dogs. Enjoy!
1. What is Canine Hydrotherapy?
Canine hydrotherapy means water therapy for dogs and can relate to any type of water treatment used to help or enhance their health. Many humans will use hydrotherapy treatment such as swimming or even healing baths and whirlpools to treat their physical injuries such as muscle damage or aching joints. Water provides both buoyancy and resistance, enabling a dog or person to strengthen and condition their muscles without putting any unwanted stress upon their joints. When a dog bathes in hot water this can help to dilate their blood vessels and relax their joints and muscles, reducing pain whilst helping to treat their injuries.
2. What Common Issues Can Be Treated with Canine Hydrotherapy?
Water hydrotherapy can benefit dogs with a variety of different conditions including but not limited to:
Arthritis
Hip and elbow dysplasia
Cruciate ligament injuries
Hind limb weakness
Back and spine issues and paralysis
Rehabilitation following surgery
Gait abnormalities
Spinal injuries
Post-fracture repair
Neurological damage or impairment
3. How Does a Canine Hydrotherapy Session Work?
Each canine hydrotherapy session will begin with a gait assessment and discussion with the owner about how their dog has been since their last visit. A qualified hydrotherapist will then safely put the dog in a harness and shower them before they enter the hydrotherapy pool. Your dog will always be in safe hands. Our qualified hydrotherapist and physiotherapist, Tom will always be in the pool with your dog. Tom will also carry out a massage on any areas of tension identified. Your dog will then be assessed on how they are swimming and how mobile their joints are. After each hydrotherapy session, your dog will be washed, showered, and dried.
4. Will Hydrotherapy Help my Dog Lose Weight?
Yes! In combination with a healthy balanced diet, swimming sessions are a great way for a dog to lose weight by burning calories. Water treatment means that there is less pressure on the dog's joints whilst exercising so they can exercise for longer periods of time when compared to exercising on dry land. Did you know that fifteen minutes of swimming equates to a one-hour dog walk! This means that we can often see positive improvements in a dog's health and fitness levels in a relatively short period of time.
5. How do I Book my Dog in For Physiotherapy and Hydrotherapy?
To book your dog in for an initial assessment, please contact our veterinary physiotherapist, Tom Day, on 01462 742658 or email us at office@cbkennels.co.uk.
We will collect your details as well as information about the dog. We will also send a referral form to your veterinary surgeon on your behalf.
Final thoughts…
We hope this article helped to answer any questions you may have regarding canine hydrotherapy. At Country Boarding for Cats and Dogs, we believe passionately in providing a leading canine hydrotherapy service and have seen the huge benefits this treatment has had on so many dogs that have come into our premises over the years. If you are interested in booking in your dog with us for a hydrotherapy session, then call us today. Our professional and friendly staff are ready and waiting to help your pet feel at home, and make sure they are as comfortable as possible during their stay with us.