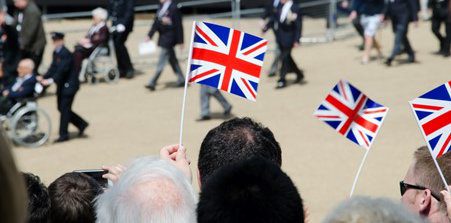 Many pet owners up and down the country, will soon be joining in with the Queen's Platinum Jubilee celebrations. This year, the Queen officially becomes the first British Monarch to celebrate a Platinum Jubilee, commemorating a total of seven decades worth of service to the nation. To mark this big day, we thought what better way to celebrate than with our dogs and cats by our side, especially given how much the Queen loves her corgis! At Country Boarding for Cats and Dogs, we have highlighted four ways to celebrate the Queen's Jubilee with your dog and cat. Enjoy!
1. A Royal Dog Walk
A special extended bank holiday weekend will offer a chance for many people throughout Britain to celebrate the Queen's Jubilee by taking their four-legged friends on beautiful dog walks. A perfect place to start would be the National Trust, where Prince Charles is the current President. The National Trust offers stunning locations throughout the UK for dog walks. From beautiful countryside lanes, wild woods and breath-taking gardens, the National Trust offers perfect dog walking spots for everybody to enjoy.
2. Jubilee Cat Friendly Cakes
Many people celebrating the Queen's Jubilee will be busy baking lots of tasty cakes and party food which will be served to neighbours, friends, and families. Why not include your feline friend in the celebrations, by baking them a cat friendly Jubilee themed cake? There are lots of recipes available online that are cat friendly and easy to follow. One favourite amongst cat owners is a tuna muffin. Here are the instructions and ingredients that you need.
Directions
Preheat your oven to 350° F (175 °C).
Lightly butter two muffin tin cups.
Next delicately mix tuna, flour, egg white, and Cheddar cheese in a bowl. Using a teaspoon, gently fill the muffin tin cups with the new mixture.
Pop in the preheated oven to bake for fifteen minutes. Let the muffins cool in their tin cups for five minutes.
Lastly, decorate your muffin cakes with a prawn before adding a mini Union Jack Flag. For safety reasons, before serving the muffins to your cat, please remember to remove the flags.
3. Royal Puppy Parties
The Queen's Jubilee celebrations will see many pet owners holding lots of street parties and fun family gatherings to commemorate the special occasion. But why not include your cuddly companions in the festivities by holding a royal themed puppy party! Puppy parties are a wonderful way for many puppies to develop their social skills by bonding with other dogs. It is also a great chance for owners to share training tips with each other and get advice on any problems they may have of faced as first-time dog owners. At Country Boarding for Cats and Dogs, we regularly entertain puppy parties throughout the year. We have an expansive four acre enclosed playing field ensuring that we give your dogs an exciting and fun day. Bring them solo, or with friends! Packages can also include food and drink from our café when booking our facilities. Puppy parties are great fun and a perfect way for many owners to include their dogs in this year's Jubilee festivities. So, if you are thinking of hosting your own puppy party at home on the day of the Jubilee celebration then you are sure to have a royally magnificent fun filled day!
4. Pamper your Pets
The Queen is well-renowned for her love of the Corgi dog breed and often pampers her beloved pets. It has been reported that the Queen's corgis have their very own royal menu and are also given their very own luxurious room in the palace. So why not follow the Queen and pamper your cat or dog during the Jubilee celebrations by preparing them their favourite meal or treating them to a cosy soft toy or snuggly bed or blanket. Currently, there are some great Union Jack designed dog and cat blankets on sale on Amazon to celebrate the Queen's Platinum Jubilee.
Final thoughts…
We hope this article has given you some great ideas to celebrate the Queen's Jubilee with your pets. Please also share your pictures of you and your pets celebrating the Queen's Jubilee with us on Facebook, Instagram and Twitter, as we would love to see them.