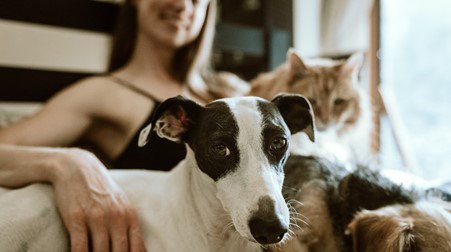 Men's Mental Health Week UK kicked off on June the 13th, raising awareness around the health issues that can affect many males. The week is a fantastic opportunity for many people around the UK and the world to discuss mental health, and to provide help and information on this important issue.
Our mental and physical health is so important and many of us often think of our mind and body as being divided, but they are very much connected. A recent YouGov survey found that 90 % of dog owners felt mentally healthier thanks to their cuddly companion. The numbers were fractionally lower for cats at 85%, highlighting the positive influences cats and dogs have on our wellbeing. At Country Boarding for Cats and Dogs, we have highlighted three benefits to living with cats and dogs. Enjoy!
Companionship
Cats and dogs make great companions, and help many people overcome feelings of loneliness and sadness. Cats and dogs will love you unconditionally and bring so much joy to your life. There is no greater feeling than to feel the wet nose or gentle flick of a tail from your loving companion as they greet you. The love and affection a cat or a dog bring to our lives can have such a positive impact on our mental health. Regular interaction with cats and dogs can massively reduce our stress levels. The positive benefits of interacting with our pets can even happen in under ten minutes. It then comes as no surprise that pets are extremely helpful to people suffering with anxiety or stress. Playing and interacting with our pets can help boost our serotonin and dopamine hormone levels, which can soothe and calm down our nervous systems.
Fitness
Owning a cat or a dog can improve our physical fitness and positively impact our mental health. Exercise helps to improve many physical health issues such as diabetes, arthritis, and high blood pressure as well as mental health issues by lowering stress and anxiety.
Cats and dogs just like humans benefit from regular stimulation and so by regularly interacting with them through exercise and play, they can have a positive effect on our fitness and wellbeing. Many owners suffering from depression and anxiety have found taking their dog on daily walks can help to boost their energy levels and improve their moods. Regular exercise has so many physical health benefits, which helps to keep our heart healthy!
Socialise
Owning a pet is a great way of meeting new people. There are many local pet groups available where owners can meet and chat with other owners. Dog walking fields and puppy groups are another great way of meeting other owners and making strong friendships with people in your local area. If you are unable to physically meet up, then there are many pet friendly Facebook groups popping up online where owners can interact and build meaningful connections and friendships from the comfort of their homes.
Closing thoughts…
Owning a cat or a dog can really help positively impact our physical and mental health. As we enter Mental Health Week for Men, we here at Country Boarding for Cats and Dogs acknowledge the huge benefits that pets bring to our lives.