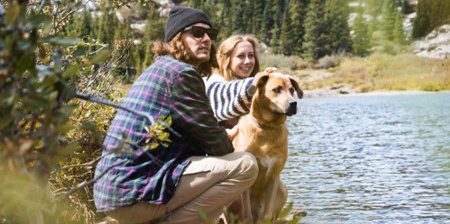 Bank Holiday Monday is here, which means for many UK dog owners, it is the perfect opportunity to spend quality time with their family, friends and of course, their pets. At Country Boarding for Cats and Dogs we have highlighted four ways you can make the most of this Bank Holiday Monday in the company of your canine companions. We hope you find this article helpful!
1. Pamper your Pooch
This Bank Holiday Monday, why not treat your pooch to a pampering session? Dog pampering sessions are great at helping dogs to relieve anxiety and stress. At Country Boarding for Cats and Dogs, we regularly provide our canine customers with relaxing baths, clipping, stripping and further grooming such as nail management and ear cleaning. Alternatively, if you decide on pampering your dog at home then why not treat them to a gentle massage and bath this Bank Holiday Monday? Try a dog friendly shampoo that properly conditions your dog's coat and helps hydrate their skin.
2. Dog Walks
Many dog owners around the UK will be enjoying the warm weather and fresh air this Bank Holiday Monday by taking their canine companions on relaxing dog walks. Why not experience the great British outdoors by researching the many dog walking routes available within the UK. Many dog owners will be heading to beaches, local parks or visiting dog walking fields this Bank Holiday Monday whilst the beautiful weather continues. Dog walks are a great opportunity to try new environments and for your dogs to take in new sights, sounds and smells. Dog walks are also excellent in helping owners and dogs stay fit through exercise as well as positively impacting wellbeing. If you are also interested in visiting some National Parks this Bank Holiday Monday, then go online and research the best ones available as there are many open that offer stunning walking environments for you and your dog to enjoy.
3. Dog Training
Whether you have a puppy or an adult dog, it is never too late to teach them new tricks. This Bank Holiday Monday, take the opportunity to train your dog new commands in either an open space or in the comfort of your own home. Dog training is a fantastic way to develop a stronger connection with your dog and helps you to both learn to work together as a team. Whether you are covering basic training commands or something more intricate, dog training helps to mentally stimulate your dog this Bank Holiday Monday.
4. Canine Camping
Does your canine companion love the open outdoors as much as you do? If the answer is yes, then why not consider taking your four-legged friend camping this Bank Holiday Monday! There are plenty of dog friendly campsites available in the UK that offer amazing walking routes, as well as direct access to nearby woodland and beaches. If you do decide on going camping with your dog, do not forget to pack a first-aid kit, plenty of water, food, and their favourite cuddly toys for comfort. Camping with your dog in the UK is a perfect excuse to enjoy the fresh open air and strengthen the existing bond between you.
Final thoughts…
We hope you found this article helpful. Whatever you decide to do with your dog this Bank Holiday Monday make sure you spend quality time together and make the most of the day!