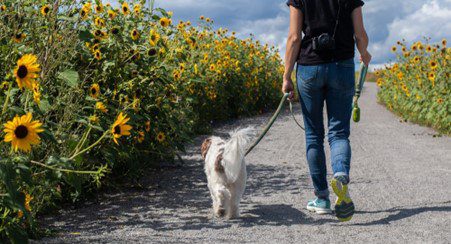 Dog walking is the perfect way for pet owners and their four-legged friends to bond and enjoy the open air together. Dog walking is also a great way for both owner and dog to exercise and positively boost their mental wellbeing.
At Country Boarding for Cats and Dogs we have highlighted three different types of dog walks to enjoy in England. We hope you find this article helpful.
1. Dog Walking Parks
Does your canine companion need some professional recall training? Or perhaps you are looking for dog walking fields that are safe and secure? Whatever you are looking for you are more than likely to find it by visiting our fifteen acres of open field which create the perfect environment for a dog walk. In Baldock we are blessed with beautiful rolling countryside consisting of lush green valleys near the end of the Chiltern hills. Our dog walking fields are ideal for dog group parties, puppy training and walks!
2. Coastal Beaches
It is no secret that England has a magnificent coastline. From breath-taking cliff tops, beautiful bays, and incredible shores, England's coastline is the perfect setting for a dog walk. But it is not just the beautiful natural scenery that makes our coastlines ideal for dog walks; they also provide your dog with lots of entertainment.
Many dogs love splashing in the sea and chasing the tide. It is also a perfect setting for a beach picnic where you and your dog can enjoy the sea view and take a well-earned rest. However, it is always important to check first if the beach is dog friendly and facilitates dog walking. There are many dog friendly beaches available in England to choose from, so research the best ones for you. Beaches also provide a lot of space for you and your dog to play and exercise whilst also offering a soft surface that is gentle on your pet's limbs.
3. Woodland walks
There are many stunning national parks in England that are ideal for dog walks. These woodland walks are bustling with green vegetation and small wildlife. Dogs will really enjoy the plethora of scents and wildlife on offer. There is no greater feeling than walking under a canopy, hearing the rustle of fallen leaves under your boots and the sounds of birds singing and squirrels chattering
With so much to discover on a woodland walk it is important to let your dog explore every nook and cranny. The fresh air has also been scientifically proven to positively affect our wellbeing and physical health by reducing blood pressure, relieve stress and depression.
Closing thoughts…
We hope you enjoyed our article highlighting the three best walks you can go on in England with your dog. Hopefully you can try some of these dog walks and improve the existing bond between you and your dog.