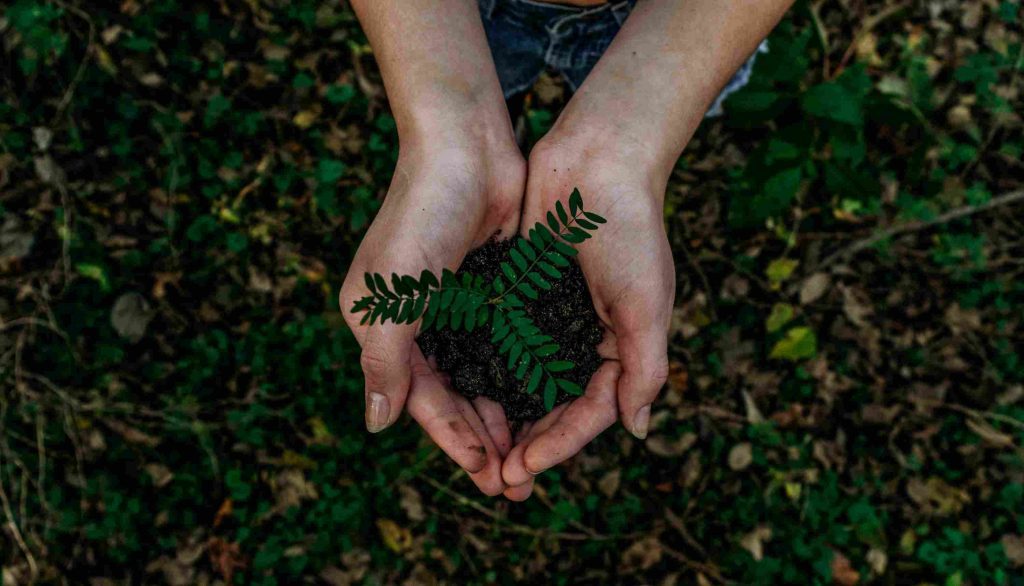 At Country Boarding for Cats and Dogs we are committed to reducing our carbon footprint and safeguarding the future environment of our planet. As part of our strong eco pledge, we as a business, have joined thousands of other British SMEs and committed ourselves to reducing our carbon emissionsin half by 2030 – with an end goal of reaching 'net zero' by 2050. As we head towards reaching our Net Zero target, we have recently been awarded the FNZ standard certificate. Within this article we will explain what Net Zero means for businesses, what an FNZ certificate is and highlight a summary of what our progress report found.
What does Net Zero mean for a business?
The term 'Net Zero' means that a business adds no further greenhouse gases to the planet's atmosphere than the quantity of greenhouse gas emissions it removes from the environment.
What is the FNZ Standard Certificate?
The Future Net Zero (FNZ) Standard certificate enables SMEs to track where they are, examine their progress and measure themselves against their industry. When a company is certified it means that they have provided a validated carbon footprint in accordance with the future Net Zero Standard official approval.
Each certificate has four levels, beginning with a preliminary certification and then progressing through to bronze, silver, and gold standards. As soon as a business is certified they can then officially publicise their Net Zero eco achievements. At Country Boarding for Cats and Dogs, we have been certified at having proven a validated carbon footprint according to the future Net Zero standard accreditation.
A Summary of our Progress Report to Net Zero Carbon Use
As part of our Net Zero commitment, our business will have its carbon footprint officially measured and the data collated within a yearly Net Zero report. As a business, this helps us keep track of our eco goals and to measure our carbon footprint each year. Below is a summary of the findings taken from our report.
Carbon Emissions Overview – last 12 months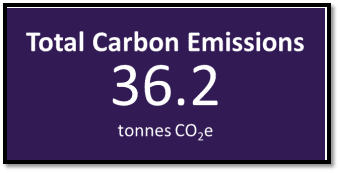 Scope 1 – Direct emissions from sources owned or controlled by our business.
Scope 2 – Indirect emissions from acquired energy such as steam, heat, and cooling.
Scope 3 – All other emissions connected with our business's endeavours.
The calculated emissions for our business in 2022 were 36.2 t CO2e (tonnes of carbon dioxide equivalent). We have seen a slight increase in carbon emissions compared to the previous benchmark year of 2021, due to normal business activities resuming after covid-19 with increased business travel and more pets being cared for. While our total CO2e emissions increased by 23% in comparison to our benchmark year, our business activity increased relatively by 60%. This indicates we are being successful in working towards meeting our targets.
Carbon Emissions Report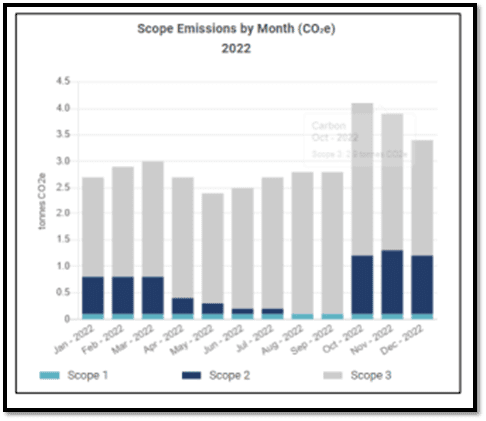 Scope 1 Our gas usage has been computed using information supplied by the providers. Gas is measured at 1.6 t CO2e. This is in comparison to 11.3 t CO2e in the benchmark year and signifies a decrease of 9.1 t CO2e – a reduction of gas usage from c. 300 litres per month to 117 litres per month.
Scope 2 Our electricity information has been evaluated via the energy provider data, which has been available for the full year on a month-by-month basis. Our electricity is measured at 6.2 t CO2e. This shows an increase of 0.2 t CO2e in comparison to our benchmark year and was anticipated because of our business returning to normal practices after covid. The graph also clearly demonstrates the dramatic effect of our 31 kW pv generating panels which reduce need to use grid power during summer months.
Scope 3 Our business travel data have been measured using mileage data taken from our company vans and cars, whilst staff commuting was measured from data collated from their home address and number of days travel per month. Water supply data is sourced from our monthly water supply bills while waste water is treated and disposed of on site.
Waste disposal has been measured using predictions based on weight and type of waste collected each week. Scope 3 total is calculated at 28.4 t CO2e, this compares to 12.1 t CO2e in the benchmark year.
Emission Reduction Targets
The graph below summarises the carbon emissions reduction targets. We are pleased to see that we are on target to reach our Net Zero goal by 2050.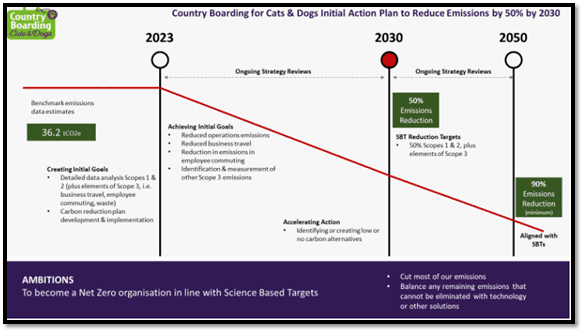 Our Aims for 2023
Employee Engagement
We aim to continue to educate staff in quarterly sessions, explaining any Net Zero issues there are and how everyone can have a positive impact on our business's carbon emissions, moving forward.
Sustainable Travel Policy
At Country Boarding Cats & Dogs we aim to insert a sustainable travel policy in the next year. The objective of the policy is to inspire and educate staff to take lower carbon travel options such as car sharing. As a business, we are also researching ways we can lease electric/hybrid vehicles as replacements where applicable.
Planting of Trees
In 2017 we planted 1100 saplings on site with the support of The Woodland Trust. We aim to continue our commitment with The Woodland Trust and plant more saplings in the future.