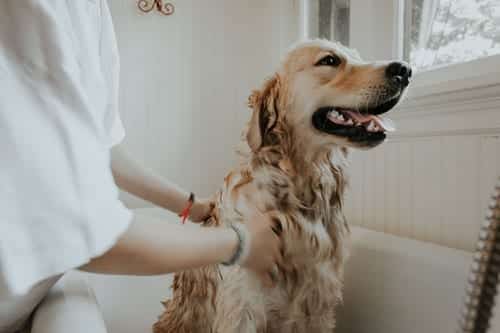 For some dog owners, it is usually enough to brush their pets just once every week. But that is not really how it should be. It is very important to frequently groom pets and ensure that they are healthy and clean at all times. Find out why it is important to groom your dog regularly.
Keeping good health
When you carry out proper dog grooming, it can be easier for you to eliminate shedding, fleas, ticks, mats and various other health problems that can develop in your pet. Early on, you can spot any issues from which your dog might be suffering. With early detection, you can treat the problems and make the treatment easier and shorter. Look for infections, lumps, inflammation, lesions, rashes, grass seeds, etc. that might be missed otherwise. When you catch an underlying problem prematurely, you can easily prevent any major health issues in your dog.
Maintaining nice fur and coat
With frequent grooming, you can ensure that your dog has a healthy fur and coat. Keep in mind that you should refrain from bathing your dog regularly. With regular bathing, the coat will be damaged – as the natural oil will be removed. However, you should try to brush your dog regularly, so that there are no mats in the fur of your canine companion. Mats can knot the hair up, pull on the tight skin and lead to pain and discomfort.
Abrasions and ulcers can also result from mats. With brushing, you can bring the natural oils out in the fur. It can help remove dandruff, dirt and dead hair. A shiny, healthy coat is what your dog will have, and it will also feel healthy from the inside. Remember to use a fine comb to brush your dog, as it can help you to brush without damaging the hair, as well as reveal fleas which might not have been possible with a thicker comb.
Prevent spread of germs and infections
Cut and trim the nails properly, as dogs cannot walk in alignment with pads which have uncut nails and there can be joint aches as a result. In dogs, it is quite a common issue. Nails that are trimmed are less likely to get curled, and there is less risk for germs to get stuck and spread. In case you plan to trim your dog nails on your own, buy good nail clippers designed to be used for dogs. It can make the job easier as well as less painful. If you feel nervous about cutting your dog's nails, you should seek advice from your vet.
No bad odors
With a clean and well-groomed dog, you can also be assured that there would be no bad smells around. There will be less shedding and less or no bad odor to endure for you or others in your home. That will also mean less need to use a vacuum cleaner.
If your dog needs grooming and you would actually prefer a professional dog grooming service then bring your dog to us so that they can relax and enjoy a day of pampering. Our dog grooming service puts your pet's welfare first and we make sure each pet is treated as they require. We ensure a calm and safe environment where our loving professionals can groom your dog. Country Boarding for Cats and Dogs have been providing friendly and professional dog grooming services for the Hertfordshire, Cambridgeshire and Bedfordshire area since the 1950s. We operate in and around Stevenage, Hitchin, Letchworth, Baldock, Royston and Biggleswade. Our friendly staff are waiting to receive your call.