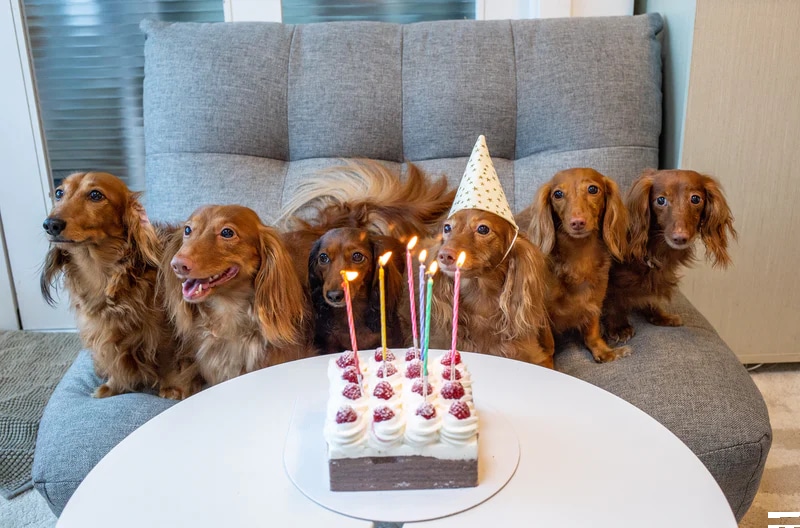 Last month, the 21st June was National Dog Party Day, (yes, there is such a day!) and many owners around the world celebrated by throwing a party for their canine companions. Below are our 5 top tips to help you enjoy the ultimate dog and puppy party!
#1 Raining Cats and Dogs
Are you planning a dog party outdoors? If so, then you will need to ensure that the weather is suitable. If the weather is hot, then you must ensure plenty of shade for your dogs to cool down in and offer plenty of water bowls. Likewise, if the weather report is predicting rain ensure that there is plenty of cover and an indoor area for the dogs and owners to dry off in if necessary.
#2 The Guest List
Guest lists are so important when it comes to creating a successful dog and puppy party. If your dog is unfamiliar with certain dogs coming to the party, then there is a slight chance that they may fight or display territorial and aggressive behaviour towards one another. It is therefore highly recommended that you try and keep your guest list to dogs with which they have been regularly socialised.
#3 The Feast
As well as providing snacks and food for your human guests, dog parties are a great way to provide healthy and tasty snacks for the dogs attending. There are lots of great healthy recipes online that are perfect for your dog to enjoy at the party. Many recipes include ingredients needed to make healthy dog friendly birthday cakes and nutritious snacks to include in their party bags. Likewise, always check with other dog owners if they or their dogs have any special dietary requirements. The safety of the owners and their dogs attending should be your number one priority.
#4 A Day of Favourites
Make a list of all the favourite things your dog likes to do and try and incorporate them into their perfect party. Maybe it is a particular dog treat that they love to try or maybe it is a fun activity you can get the other guests and their dogs to join in with? One firm favourite for many dogs is a nice walk, so why not invite the owners and their dogs on a group dog walk after you have cut the cake?