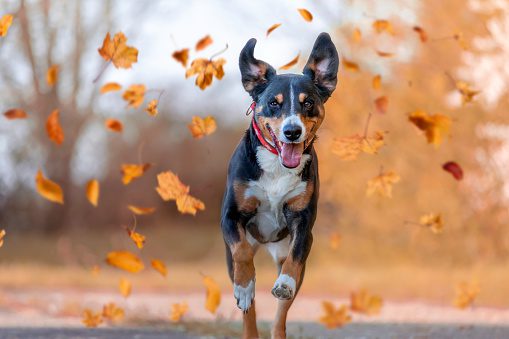 Autumn is here. The weather is colder, and the days are shorter. Exercising outdoors can often be the last thing on our minds. However, exercising during the colder seasons can really benefit us by improving our overall health and wellbeing. This is also true when it comes to our four-legged friends. This article highlights four ways to help boost your dog's health and wellbeing this autumn. We hope you find this article helpful!
1. Dog Groups
Puppy training classes and adult dog groups are a perfect way to introduce exercise into their daily lives as well as better socialising them with other dogs. If your dog loves splashing in the water, then why not consider registering them for swimming lessons or canine hydrotherapy if they suffer from any joint or muscle issues. Puppy Parties are another great way for your dog to exercise through playing and interacting with other dogs which will also help improve their wellbeing.
2. Fun Games
Games such as fetch, and tug-of-war are perfect to play outdoors, especially in autumn where the brightly coloured foliage transforms the scenery around them. These games can be a great way of helping your dog stay healthy. Get involved in the game of fetch, by tossing them their favourite cuddly toy or ball and then running with them to retrieve it. By getting more involved, the two of you will have more fun together which is great for strengthening existing bonds and keeping fit.
If you have an old piece of cloth or a rope, then you can play tug-of-war with your dog. The game is a great way to help your dog learn self-control. Nevertheless, this game does come with certain risks. For example, the game may bring out aggressive behaviour in your pet. Be conscious of this risk factor and try and establish a strong relationship of trust and respect with your dog before attempting this game.
3. Found You!
Hide and seek is a great game to play in autumn. You can play this game indoors or outside. Simply stock up on your dog's favourite healthy snacks in preparation for this game. If you have children, then this is a great family fun game to play with your dog. Once a person has found a suitable hiding place, they will need to call the dog's name. As soon as your dog finds the hiding person, that person can reward them with their favourite treat. This is another great way of getting your dog to exercise as well as helping to strengthen your existing bond with them.
4. Walkies
The autumnal hues and cooler temperatures this season make it a perfect time to enjoy long dog walks. Autumn welcomes plenty of new sights and smells for your dog to explore the next time you take them on a dog walk. Take advantage of this beautiful season by wrapping up warm and connecting with your pet and the natural environment around you.
Closing thoughts
We hope you found this article helpful. Hopefully you can explore these exercise and wellbeing activities with your dog, the next time you go on a dog walk this Autumn. At Country Boarding for Cats and Dogs we have many years of experience providing a friendly and professional dog walking service in Hertfordshire. Call our friendly team today on 01462 742658 or send us an email at office@cbkennels.co.uk.