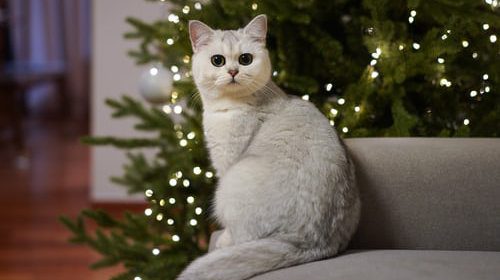 With just over a couple of weeks to go before Christmas, many families around the world will now be putting up their Christmas trees and decorating their homes. However, if you are a cat owner then you will need to take certain safety precautions as many Christmas trees can be dangerous for cats. At Country Boarding for Cats and Dogs, we have listed five tips to keep your fury feline safe and happy this Christmas.
1. Picking the Right Tree
Real Christmas trees are beautiful and smell lovely, but the pine needles can be hazardous if consumed by your cat. Cat's paws can also easily pick up the sharp pine needles and these can become lodged, causing your pet pain and potential infections if the wound is left untreated. Why not consider a realistic looking artificial Christmas tree instead? Fake Christmas trees are a lot safer for your cat and can be re-used for future Christmases. If you do opt for an artificial tree, then also consider buying a smaller one if your cat loves to climb and explore.
2. Setting Up the tree
As cats are naturally inquisitive creatures, a Christmas tree decorated with festive tinsel and lights can often increase this interest. Give your feline friend a chance to get used to the tree by leaving it bare for a few days. Once your cat is used to sharing their environment with the new tree, you can then hang the decorations. Hopefully by this point, your cat will be less interested in exploring your decorated tree.
3. Decorating the Tree
Cats are also naturally great climbers, so try and ensure that you decorate your Christmas tree with ornaments positioned higher up. Make it harder for your cat to reach these decorations by positioning them as high up as possible. The higher the decorations the better! The last thing you want is for your cat to bring down the tree with their paws as they explore the new shiny decorations you have just put up.
4. Cat-friendly Materials
There are many cat-friendly decorations available to buy online. Many cat-friendly decorations are made from fabric, silk, or paper materials and these can be safely and easily tied onto your tree. Try and avoid glass baubles as these can shatter easily. Tinsel can also be extremely dangerous to cats if swallowed. Many cats tend to swallow tinsel whole instead of chewing it up into pieces and in some cases, this can even cut through their intestinal wall. Tinsel looks festive but it can also lead to a severe infection if consumed by your cat. This Christmas, be safe and avoid tinsel altogether.
5. Christmas Lights
Twinkling lights help illuminate our trees with a festive glow, but they can also be dangerous for cats. To help safeguard your cat, consider placing Christmas tree lights towards the top of the tree so your cat is not enticed to chew on the cables. To further protect your cat this Christmas, consider covering the end of the wire that plugs into the wall with a cord protector. If you are leaving your cat unsupervised with the tree, then always ensure you unplug the lights.
Closing thoughts…
Did you find this article helpful? Hopefully these five festive tips will help you keep your fury feline safe and happy this Christmas. We have been working with cats for many years, and we know that a safe and secure cat is a happy cat. Our professional and friendly staff are ready and waiting to help your cat feel at home, and make sure they are as comfortable as possible this Christmas during their stay at our luxury cattery in Hertfordshire.