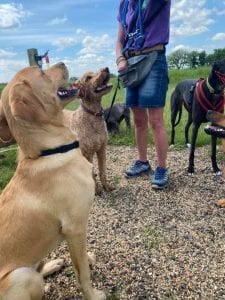 When it comes to walking your four legged friend, it's not only a great way for you to keep fit but it's also a great way for them to learn good behaviours whilst exploring the world around them. Read the following six dog walking tips below to ensue your canine companion gets the most out of their daily walks. Enjoy!
Change the Pace
Sometimes changing the pace of your dog walk is a great way of enjoying the scenery around you. It's also a great chance for your furry friend to take in a new smell or explore something they have spotted. Likewise, if you prefer a more leisurely stroll, then why not try introducing a higher intensity? By changing the pace of your dog walk, you are slowly training your dog to become more alert, more focussed and allowing them to remain closer to you at all times.
Exploration. Exploration. Exploration
Your dog is a natural born explorer and very inquisitive. They say variety is the spice of life, so why not explore new trails the next time you take your dog out for a walk. Introducing a new corner of your walk is a great way of doing this.
Include Training Exercises
Dog walking is also a great opportunity to introduce different training exercises. Dog training doesn't have to always take place at home. Dog training exercises on a walk are highly recommended for any breed and for any age. Who says you can't teach an old dog new tricks?! We offer a variety of assessments and courses at our dog training centre in Hertfordshire to address a wide range of issues your dog may be experiencing.
Walking and Playing
The next time you walk your dog why not bring along their favourite toy to add some fun to the mix. Playing fetch with a Frisbee or a ball is a great way to bond with your dog whilst also helping to build their concentration and discipline.
Socialising
Dog walking is a great way of socialising your dog with other canines. The more exposure your dog has with other dogs, the more comfortable they will become in social situations over time. When your dog goes for a walk, they'll also use up plenty of energy from exercising their limbs and therefore tend to be a lot calmer when meeting up with other canines. However, always approach dogs which you do not know with caution as they may be reactive. Ask the owner how their dog reacts to others before letting your dog get in close.
Hopefully this dog walking article has been helpful. At Country Boarding for Cats and Dogs we have many years of experience providing a friendly and professional dog walking services for the Hertfordshire, Cambridgeshire and Bedfordshire regions. Our friendly dog walking team will even collect in and around Hitchin, Letchworth, Baldock and Royston. Call our friendly dog walking staff today who are waiting to receive your call.
Call 01462 742658 or send us an email office@cbkennels.co.uk for dog walking in Hertfordshire.